Trusted as Asia's leading brand in health and wellness for over 143 years, Eu Yan Sang is recognized for its high-quality products rooted in Traditional Chinese Medicine wisdom.
From June 17 to July 1 2022, enjoy 10% OFF all Eu Yan Sang products.
Check out some of their bestsellers below!
Pure Cordyceps Capsules
For Energy, Stamina and Immunity
Eu Yan Sang's best-selling Pure Cordyceps Capsules is packed with 100% Hirsutella Sinensis, the only true strain of Cordyceps proven to be 99.645% genetically identical to rare wild cordyceps.
Touted for its natural energy-boosting effects, Cordyceps has been widely used as a health supplement that helps to improve vitality and overall well-being.
It's perfect for:
Fitness Enthusiasts: Improves blood circulation and energy levels for extra stamina and endurance through your workouts.
Working Professionals: Fortifies immunity and combats fatigue to help you be at your best while juggling work, life, and family.
Seniors: Promotes vitality, builds immunity, and improves physical stamina to support an active lifestyle.
Lingzhi Cracked Spores Powder Capsules Plus
For Immunity, Mental Clarity & Manage Everyday Stress
Eu Yan Sang Lingzhi Cracked Spores Powder has been formulated with 100% pure Lingzhi mushroom. It contains highly broken Lingzhi Spores and concentrated Lingzhi Sporeophore extract.
Did you know?
Lingzhi spores has the most medicinal value out of the whole Lingzhi mushroom.
It is rare and precious, with only about 1kg of Lingzhi Spore powder extractable from 1000kg of Lingzhi.
With Eu Ya Sang's patented technology, the rare Lingzhi spores register a 99% broken rate, breaking its hard cell walls for its nutrients to be released and absorbed by the body.
Eu Yan Sang Lingzhi Cracked Spores Powder Capsules Plus is produced in manufacturing plants certified with ISO9001 and TGA PIC/S GMP for best manufacturing practices and strict quality control.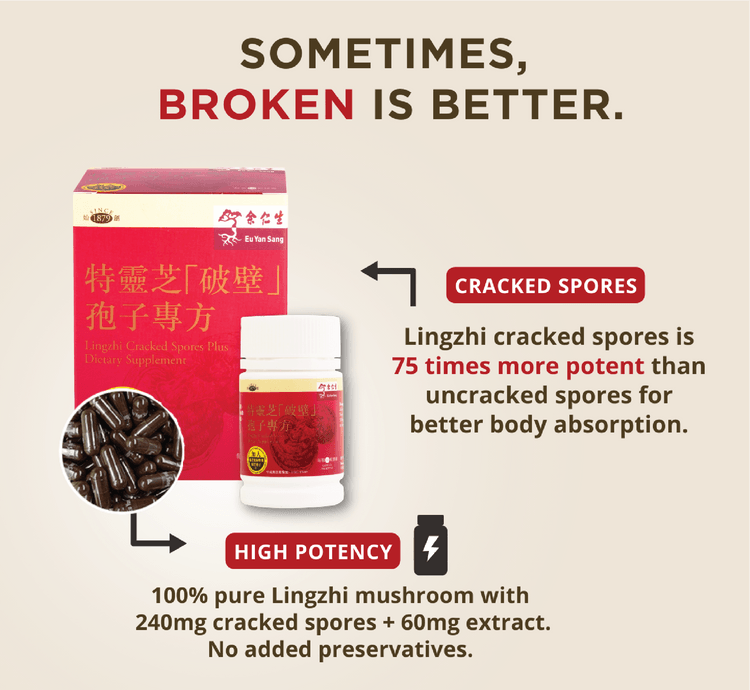 It's perfect for:
Wellness Enthusiasts: Enhances immunity, promotes liver cell regeneration, and improves good cholesterol for everyday wellness.
Working Professionals: Alleviates symptoms of anxiety, improves sleep quality, and promotes mental clarity to help you be at your best.
Seniors: Helps prevent cognitive disorders and promotes cardiovascular health to support healthy aging.
Bird's Nest
For beauty, nourishment and wellness
Bird's Nest is a nutrient-rich health tonic, used for centuries in Asia. Known for its restorative benefits on health and beauty, it is a rare delicacy with a thick gelatinous texture and pleasant egg-like aroma.
Specially prepared from premium quality cave bird's nest, Eu Yan Sang Bird's Nest products are meticulously cleansed and free of impurities. They are hygienically sterilized by heat, with no artificial additives added to ensure its original flavors and nutrients are retained.

Those who prefer having Bird's Nest on-the-go can opt for their Superior Bird's Nest 6's, conveniently packed in 6 bottles with complete bird's nest strands in it.
Simply pop the bottle open and enjoy!

Every bottle is packed to meet your nutritional needs.
Currrently, Eu Yan Sang's Superior Bird's Nest 6's is available in two sugar levels on Weee! - Rock Sugar and Reduced Sugar.
It's perfect for:
Pregnant Mums: Provides essential proteins to improve skin elasticity, relieve stretch marks, and promote healthy growth of the fetus.
Beauty Lovers: Slows down the aging process, promotes youthfulness and rejuvenates the skin complexion for a healthy glow from within.
Seniors: Nourishes lungs, supports respiratory health, and reduces liver spots for healthy aging.