It's National Smoothie Day!
It's also the perfect time to blend up a refreshing summer drink!
Here are some ingredients to inspire creativity⚡️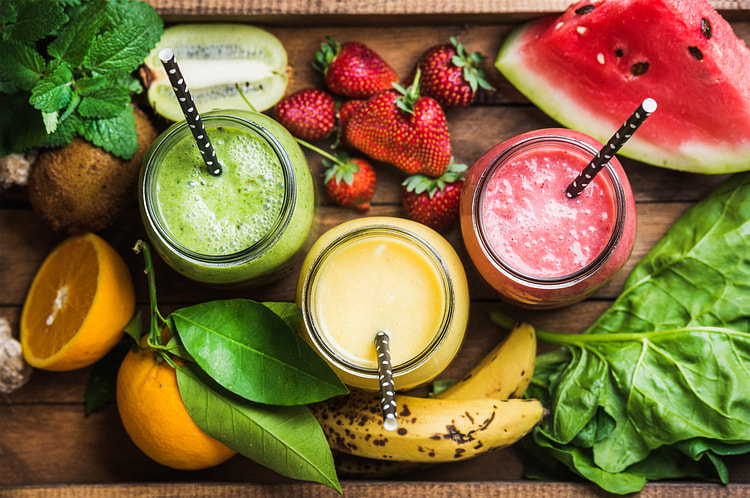 Our Latest New Arrivals!
Seaosonal fruits you don't want to miss out!
Let's Start With a Base Here
Like Them "Berry" Much
Suggested recipe: Mixed Berry Smoothie
These little berries are loaded with antioxidants and sure to be delicious!
Pro Tip: freeze overnight for extra texture!

"Rooting" For These
Suggested Recipe: Carrot Apple Smoothie🥕
[ half a carrot + half an apple + half an orange ]
Sipping on a refreshing blend of vitamins ~
Pro Tip: You could add some spinach for a boost of nutrition
"Apple"solutely Amazing!
Suggested Recipe: Apple Peanut Butter Smoothie
[ half an apple + 1 or 2 scoops of peanut butter + one banana + oats of your choice ]
If you prefer a thick and creamy blend, this is the recipe for you
Pro Tip: Add a dash of cinnamon for a little something special
Feeling "Grape" ful Today?
Grape pair well when blended with Greek yogurt!
Pro Tip: Add a little honey to get rid of tartness if it applies~
One in a "Melon"
Summer is all about munching on some refreshing watermelons🍉💦
They are even better when blended into smoothies :D
Pro Tip: add a hint of lime juice to balance out the sweetness and for an extra refreshing taste ~
All I "Avo" Wanted
Suggested Recipe: Orange Avocado Smoothie
[ half a banana + 1 peeled orange + half of the avocado + spinach (optional) ]
Not your typical avocado smoothie anymore with some fresh orange juice in there!
Orange helps with your digestion and adds a note of citrus to the creaminess of your smoothie~
"Spice" It Up!
Suggested Recipe: Lemon Ginger Smoothie​
[ 1/2 cup of frozen peaches + 1/2 of frozen pineapple + 1/2 of frozen mango + juice of whole lemon + 1 tablespoon of grated ginger ]
This smoothie is sure to zest up your summer!
"Nut" What You Expected
Suggested Recipe: ​Chocolate Walnut Smoothie
[ 1 banana + 2 tablespoon of cocoa powder + 2 tablespoon of maple syrup + 1 table of chia seed + 1 pinch of sea salt]
Calling all chocolate lovers! This smoothie will win your heart! 🍫
Scroll to See More Ingredients You Need for the Blend!

👉Enter Here For More Fruits