KOKUYO Japan Campus Notebook Dotted Line B5 30 Sheet 5 Color Pack
Made in Japan
Size (one note):179×252×4mm
キャンパスノートは「強い」
キャンパスノートの紙を束ねている糊の成分や付け方の工夫により、途中でページを破っても紙1枚1枚がバラけにくい「無線とじ製本」を採用しています。
Campus notebooks are "strong.
Thanks to the composition of the glue that binds the paper together and the ingenuity of the way it is applied, Campus Notebooks are bound with a "wireless binding" that prevents the individual sheets of paper from coming apart even if the page is torn in the middle.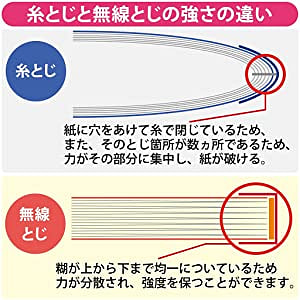 無線とじ製本の良さ
無線とじ製本は、左右のページがどのページも同じようにフラットに開くので書きやすくなっています。
キャンパスノートは上から下まで製本されているのでより丈夫で、片方のページを切り取っても他のページに影響しません。(糸とじ製本だと片方のページを切り取ると、反対側のページも取れてしまいます。)
The advantages of perfect binding
Wireless binding is easier to write on because the left and right pages open flat as any page.
Campus notebooks are bound from top to bottom, so they are more durable, and if you cut out one page, it will not affect the other pages. (With thread-bound notebooks, if you cut out one page, the page on the other side will also be cut out.)
強化した背クロスを使用
キャンパスノートの背クロスは、紙の表面に特殊フィルムをラミネート加工したクロスを採用しているので、破れやすり切れに強く、最後まで美しくお使いいただけます。また、背クロスにボールペンなどの筆記用具で書きやすいように表面加工がされており、書いた文字が分かりやすいよう淡い色を採用し、タイトルが書きやすいつくりになってます。
(※背クロスへの筆記は、筆記具によってはにじんだり定着しにくい場合があります。)
Reinforced spine cloth is used
The spine cloth of the Campus Notebook is made of paper laminated with a special film, so it is resistant to tears and abrasions, and can be used beautifully until the end of its life. The surface of the spine cloth is processed so that it can be easily written on with a writing utensil such as a ballpoint pen, and a light color is used to make it easy to see the written text and to write titles.
(* Writing on the back cloth may blur or be difficult to fix depending on the writing instrument.)
キャンパスノートはどのくらい強いか?実験
キャンパスノートの中の紙1枚にペットボトルを吊るして、どのくらいの重さに耐えられるか実験します。
How strong is a campus notebook? Experiment
Experiment with a sheet of paper inside a campus notebook by hanging a plastic bottle from it to see how much weight it can withstand.
キャンパスノートはどのくらい強いか?結果
ペットボトル10本分、吊るすことができました。
キャンパスノートは約20キログラムの重さに耐えられるので、紙1枚1枚がはがれにくく、長く使える安心品質です
How strong is the Campus Notebook? Result
We were able to hang 10 plastic bottles.
Campus notebooks can withstand a weight of about 20 kilograms, so each sheet of paper is resistant to peeling and has a long-lasting, reliable quality.
Aviso
Las descripciones de productos en el sitio web y la aplicación de Weee! son solo para fines informativos.
Ver nuestro aviso