Yellow Dragon fruit is slightly smaller in size than the average store-bought red dragon fruit
But, don't let that fool you
Yellow Dragon fruit is more - crisp, juicy, and extremely sweet
When it comes to Yellow Dragon fruit, they have no acidity!
Yellow Dragon fruit is a good source of magnesium, phosphorus, and potassium
Compared to Red Dragon fruit, Yellow Dragon fruit contains more dietary fiber, protein, and have higher amounts of calcium
They provide small amounts of iron, vitamins A and C, and niacin
Yellow Dragon fruit is a good source of antioxidants and beneficial fatty acids.
The edible seeds contain high amounts of omega-3 fatty acids that are beneficial for a healthy heart.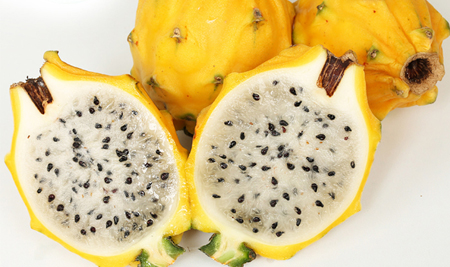 Perfect for smoothies, fruit salads, sherbert, or as is!
Either scoop it out the pulp with a spoon or slice them nicely
For the best flavor, refrigerate the fruit for 2 hours before eating
Yellow Dragon fruit can be kept at room temperature for a week and will keep in the refrigerator for up to two or more weeks.
Disclaimer
Product descriptions on Weee!'s website and app are for informational purposes only.
See our disclaimer